Whether you're an experienced Arizona traveler who regularly uses an airport car service in Scottsdale, AZ, or you're only now visiting the Grand Canyon State for the first time, it always pays to do a little advance research about the area you're traveling to. 
In order to help you make your journey as hassle-free as possible, we prepared a short guide on how to have a safe and easy trip to Scottsdale. Read on! 
What airport do you fly into to go to Scottsdale?
Although the city of Scottsdale has its own airport, it doesn't actually have any commercial airline or commuter service. Rather, Scottsdale Airport is used as a home to the Valley's corporate aircraft. 
For this reason, people who are flying to Scottsdale will normally land at Phoenix Sky Harbor International Airport. As the largest and busiest airport in Arizona, Phoenix Airport occupies an area of 3400 acres, has 3 parallel runways, and 4 terminals. 
Fun fact: in addition to its commercial airline facilities, Phoenix Airport also houses the 161st Air Refueling Wing, which is an Air Mobility Command unit of the Arizona Air National Guard. 
How far is Scottsdale to Phoenix Airport?
If you were to draw a straight line between Scottsdale and Phoenix Airport, it would be 8 miles long. However, the actual road distance is about 12.5 miles long. If traveling by car or a shuttle bus, it takes 15 minutes or so to get to Scottsdale from Phoenix Airport. 
Needless to say, the travel time may be slightly increased as a result of unfavorable traffic or unexpectedly harsh weather. However, this is rare. 
Other modes of transportation include:
Tram line, which takes about an hour and fifteen minutes to arrive at Scottsdale.

Public bus usually gets to Scottsdale in an hour and twenty minutes. 
A word of warning:
Using public transportation during the COVID-19 pandemic is risky, to say the least. In order to minimize the possibility of infection, travelers are highly advised not to linger at the airport and to have a friend or a family member pick them up as soon as they've passed through airport security.
If this isn't possible, your best bet is to schedule a ride with a professional airport transportation service.
Is Scottsdale a part of Phoenix?
Although Scottsdale belongs to the Greater Phoenix Area and is bordered by Phoenix on the west, it's actually a separate city. It covers an area of 185,000 square miles and has an estimated population of more than 250,000 people, making it the sixth largest city in the Grand Canyon State.
Whether you're visiting Scottsdale as part of a business trip, or you're a tourist looking to make the most of your time in "The West's Most Western Town", you'll be happy to hear that Scottsdale offers many fun activities and famous landmarks. 
These include:
Musical Instrument Museum features a collection of more than 13,500 instruments from all over the world.

Wine Trail gives you an opportunity to taste some of Arizona's finest brews and wines. 

Xeriscape Garden at Chaparral Park is a gorgeous wildlife habitat that contains over 200 animal species and more than 7000 different plants.
Where can I book a quality airport car service in Scottsdale, AZ?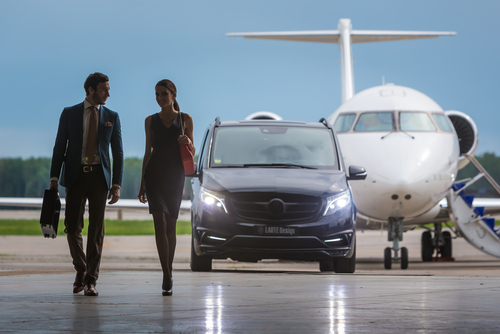 AZLIMO.COM is a leading provider of private transportation services with more than 15 years of industry experience. We pride ourselves on our experienced and highly-trained drivers and our fleet of state-of-the-art vehicles. 
Our services include airport transportation, bus charters, limousine and party bus rental, and more. Book your ride today, or reach out to us if you have further questions.