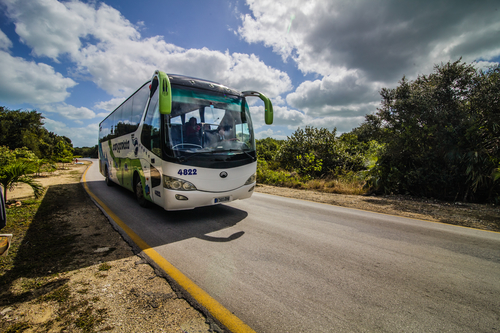 As summer approaches and you plan your next trip with family members or a group of friends, you may want to consider renting one of the most comfortable and luxurious mini or charter buses Phoenix, Arizona has to offer. Hiring a limo service can upgrade your trip, make it so much more fun and make the journey as memorable as the destination you're headed to. Your companions will reminiscence your 'once in a lifetime' trip for years!
Let's take a look at some of the benefits that the best bus rental in Phoenix, AZ can provide!
Enjoy the scenery
Let the landscape float by your window as you enjoy the comfort of your rented bus. When you hire a reliable limo service such as AZLIMO.COM, you can relax and enjoy the scenic views while a professional chauffeur brings you and your friends and/or family to your destination safe and sound.
With a professional driver behind the wheel, you will never have to worry about missing a view again! Also, when you rent a coach bus or a charter bus, the size of the windows will allow you to get the best possible view of nature from inside!
Ride in comfort and style
When you set off, you should be able to sit back, relax and recharge your batteries. By renting one of the best coach or charter buses Phoenix Arizona can provide, you will enjoy all the wonderful amenities and the highest level of comfort during your special ride. You and your crew will travel comfortably, safely, confidently, and in style!
If you want to watch movies on your bus's TV monitors, take a nap, have some fun with your companions or catch up on some reading, you will be able to do all that and more! With the best charter buses Phoenix Arizona can offer, you will enjoy not only luxurious amenities, but also comfortable seating, spacious legroom and more than enough space for your luggage. Forget about a family van and rent a vehicle that can fit way more friends and family members so that you all can have fun the minute you set off.
Leave the driving to someone else
Finding a person who is both qualified and willing to take you to your destination can be tiring. Why should any one of you bear the burden of the driving shifts? If you leave the driving to a professional, experienced and well trained chauffeur, you won't have to focus on the driving logistics, safety or punctuality.
Bring anyone you want
If you like spending your vacation with your friends or family, why not make the most out of your time together by renting a bus that can accommodate your needs? Why worry about coordinating travel with your family and friends when you can all ride together and enjoy your free time with luxurious bus transportation? All that travel time can quickly become a chance for you to have fun and socialize.
Looking for first-class coach and charter buses Phoenix Arizona can provide?
By renting the best coach or charter buses Phoenix Arizona can offer, you can enjoy all the benefits of your road trip with less of the worry. AZLIMO.COM will make sure that your trip goes smoothly and our chauffeurs will help make your vacation a trip to remember! Check out our fleet and book our limousine rental services in a few quick steps and get the first-class customer service in Phoenix, AZ! Reserve your vehicle today!