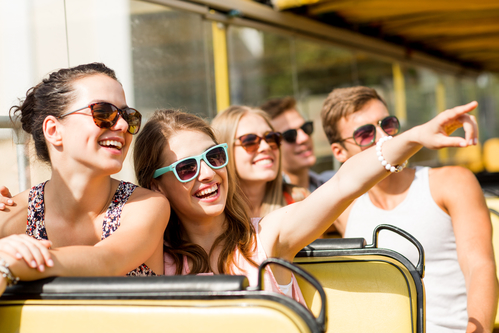 Exploring a certain region isn't only about reaching the destination itself, but also about enjoying the extraordinary experience of travelling. A great way to transform your trip into nothing short of an exciting adventure is to opt for a party bus. By renting a Scottsdale party bus, you can explore the region in a truly luxurious fashion, making your journey unforgettable! So, if you are curious about fabulous party bus AZ prices and other details so you'd hire one for your next big adventure, here are all the perks.
Affordability of party bus AZ prices for a shared trip
Affordability is one of the most important advantages of renting a party bus instead of buying a ticket for a regular one or travelling by car. You can share both your adventure and the cost with your friends or colleagues, whether you're traveling with a select few or a whole bunch of people. This economical solution will allow you to save a few bucks and spend them on the things you actually enjoy, not transportation which is a necessity.
Comfort in a stylish environment
Why spend hours trying to find a suitable position in an overcrowded car or a regular bus when you can enjoy yourself in a bus that's comfortable and spacious, not to mention chic? You get utter comfort and exquisite style at reasonable party bus AZ prices, so you and your friends can get the most out of the trip, feeling cosy, comfortable and in high spirits. What's more, these buses feature an interior that puts any other to shame, boasting luxurious leather seats, party-inspired lighting and even a bar!
Convenient travelling
You and your friends won't have to worry about whose turn it is to drive because a party bus comes with an experienced chauffeur! You can sit back, relax and enjoy the ride while admiring the surrounding scenery and attractions. With a party bus, you also won't have to worry about picking up all the passengers since your transportation vehicle will show up at the agreed location and at the agreed time. Another perk of party buses is that they are appropriate for various events, from concerts and cocktail events to birthday parties and pre-wedding celebrations.
Party on the road
The party bus bears its name for a reason – it will provide you with an opportunity to take the party with you. By hiring a party bus, you get a party-oriented vehicle with all the trimmings, including an awesome lightshow and a high-tech sound system.
Besides, instead of being exhausted from travelling, you can start celebrating your special occasion with your friends while still on the road. This will make your shared adventure start off with a bang, putting you all in a great mood.
Supplies on board
The list of reason for hiring a party bus goes on and on! One of them is that you get to bring your own supplies on board so you don't even have to make stops along the way. Your trip wouldn't be complete without stocking up on snacks, appetizers and drinks beforehand. You can even use your own decorations to make the party feel more personal.
Party bus AZ prices – a small price to pay for a once-in-a-lifetime adventure
By opting for an AZ Limo party bus rather than a regular transportation vehicle, you're opting for an experience of a lifetime. Not only will you be able to enjoy all the perks, but also get the party started as soon as you get together and keep it going until the very end! Get in touch with us today and let's get that party started!