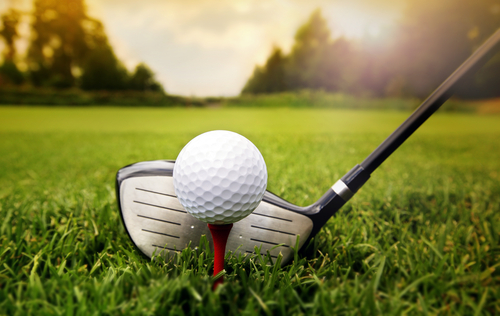 Whether you're planning a bachelor getaway for your best friend or you've just decided to take some time enjoying your favorite sport, golfing is an engaging and challenging, yet relaxing way to spend your days. For a larger group, one of the first things you need to do is organize golfing transportation and renting a Sprinter van in Phoenix might be just the right choice. 
However, to determine whether this type of vehicle is appropriate for your golfing trip, you should consider a few important factors first. Planning this part in detail will enable you to have a more comfortable traveling experience. Also, if you're traveling with your friends long distance, it's extremely important that you book the right kind of transportation.
What should you know about golfing in Phoenix?
Regardless of whether you're a golfing pro or newbie, Phoenix is definitely a great place to test and perfect your skills. You'll be delighted with the golf courses in the area, the enthusiasm of local golf players, and more! So, no matter the occasion, discovering the world of golf in Phoenix is a great way to spend your vacation.
Here's what you should know about golfing in Phoenix:
Along with its neighboring areas, Phoenix has around 200 golf courses, so you'll definitely have a great time exploring them.
The golf courses in the region are quite diverse, some of them even occupying desert landscapes.
A great number of golf resorts offer numerous amenities such as spa treatments, so you can have a holistic experience in Phoenix. 
You should dress appropriately and come fully equipped to meet golf course dress codes and requirements. 
Bringing several bottles of water is typically acceptable, but bringing other beverages and food isn't allowed. 
It's advisable to book/rent transportation, especially if you're planning to visit as many golf courses as possible. 
You should be aware of a desert rule which means that desert areas are treated as water hazards. 
What size is a Sprinter van?
So, what type of vehicle is most suitable for your golfing trip? This decision will depend mainly on the number of passengers. If you're traveling with several friends, a car will be too small since you'll have to bring both your personal things and golfing equipment. On the other hand, a mini bus or charter bus will be too big and expensive for such a small group. 
This leaves you one perfect option – a van. And a Sprinter van may be the perfect fit because it features enough room for your golfing equipment and fellow passengers. You won't feel cramped, especially not in the luxe Mercedes Sprinter vans. Some of them can even accommodate 12 passengers, yet they aren't too bulky. 
When it comes to size, Sprinter vans are perfect for travelers with large items such as golfing equipment. In general, these vans are 274.1 inches long and 105.8 inches high. The interior dimensions can vary depending on whether you go with, for instance, a passenger van or a cargo van. It's best that you discuss the van size with your trusted transportation provider to make sure you've picked the right one. 
What weight can a Sprinter van carry?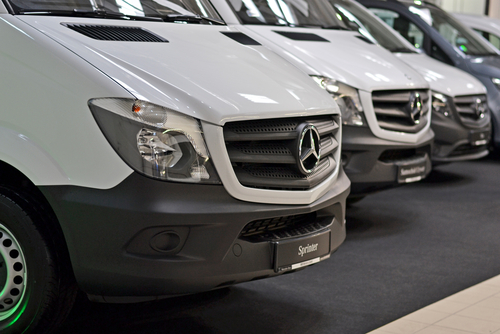 The cargo capacity of a Sprinter van is another important factor to consider, especially if you're going to transport your and your friends' golfing equipment. Of course, cargo capacity will greatly depend on the Sprinter model you rent. 
For instance, the 2019 Mercedes Sprinter Cargo Van comes in three different trim levels, which affects the roof height and wheelbase length. Consequently, this also determines the overall interior space of the van.
Here's the cargo capacity depending on the wheelbase: 
144" wheelbase: 319.1 cubic feet of cargo, 3,501-pound payload rating, 5,000-pound towing capacity.
170" wheelbase: 486.5 cubic feet of cargo space, 3,104-pound payload rating, 5,000-pound towing capacity.
170" extended wheelbase: 530 cubic feet of cargo space, 2,983-pound payload rating, 5,000-pound towing capacity.
How much does a full set of golf clubs weigh?
Whether you're having a game of golf at the Encanto 9 Golf Course or traveling outside Phoenix, you still need to transport your golf equipment. And if you're traveling with your friends, you should be on the safe side and find out whether the Sprinter van you want to rent can actually carry your golf bags and other equipment. 
So, how much exactly does a set of golf clubs weigh? Of course, one important thing to keep in mind is that the final number may vary depending on the golf club type, whether you have full sets of clubs, what kind of golf bags you have, etc.
Nonetheless, the average set of 14 golf clubs carried in a standard-size bag is around 30 pounds, with the bag weighing from three to five pounds. In general, an individual professional golf club weighs 0.73 pounds. However, it's always better to assume it weighs a pound. Either way, a Sprinter van will definitely be able to carry your golf equipment and personal belongings even if there are a few passengers. 
Who offers unmatched Sprinter van rentals in Phoenix?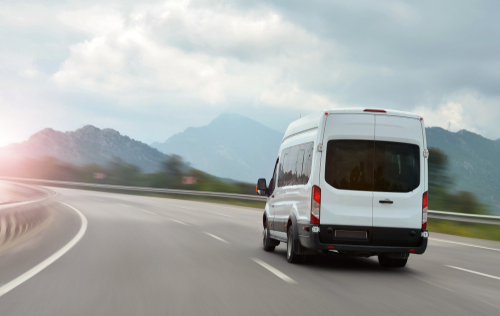 If you're planning a golfing adventure for you and your fellow golfers and transportation is the only thing missing, just leave it to AZLIMO.COM. We can provide you with first-rate rental services and a fleet of Sprinter vans for a truly enjoyable and comfortable trip. 
Our vehicles meet FMCSA guidelines and are properly and regularly maintained, so your safety is never an issue. For any additional questions regarding their cargo capacity or details of our service, just get in touch with us!