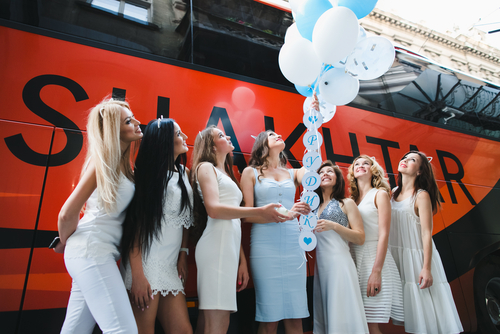 Party bus rentals in Phoenix, AZ are specially customized transportation vehicles to accommodate up to twenty people. Quite simply, you should rent a party bus if you want to take a ride onboard a vehicle that's literally been converted into a mobile nightclub.
If you've never heard of party buses before, this probably raises a lot of questions. Where should you go on a party bus? Is this type of transportation secure? Is drinking permitted onboard a party bus?
In this article, we'll answer all these questions and more. Read on.
How to throw an unforgettable party?
Of the many things you can do to make a party truly unforgettable, novelty is by far the most reliable and memorable one. After all, people love to experience new things, or to enjoy their usual passions in a different environment.
So how can you take a regular bachelor or birthday party and turn it into a unique experience? Why, make it mobile! Laugh with your friends and dance to your favorite songs onboard a party bus that cruises through the most impressive parts of Phoenix, before delivering you to a destination of your choice. How's that for a memorable party?
What do party buses include?
Of course, modern party buses are fully equipped with all the alcohol and snacks you could possibly need. Just remember that, while legal adulthood isn't needed to enter a party bus, people less than 21 years of age are not allowed to drink alcohol.
Specialized party bus amenities include:
Disco floors for the dancers among us.

Powerful sound systems that can blast your favorite songs.

Different connectivity options such as BluRay, Bluetooth, DVD, and so on.

Super-comfortable leather seats that look, smell, and feel good.

Laser and strobe illumination and LED light shows that mimic nightclub lightning.

Illuminated bars that carry various snacks and, of course, cooled booze.

Quality flat screen TVs that play whatever you like.
What is the purpose of a party bus?
The goal of a party bus rental company is to ensure its clients have a great time while traveling to a destination such as a party, wedding, nightclub, or festival. The entire service is built with the goal of helping people have even more fun during their night out or during happy occasions such as birthday parties.
More importantly, party buses are specifically designed to transport larger groups of people who may be tipsy or otherwise relaxed and not on full alert. Which brings us to our next question.
Are party buses safe?
Absolutely. We could even go a step further and say that party buses are one of the safest ways for groups of people to unwind and enjoy themselves, without having to worry about transportation or how much alcohol they drink.
In fact, a party bus is probably the safest way to get around Phoenix for large groups of people. After all, you're being driven by licensed, vetted, and background-checked professional chauffeurs who know the city like the back of their hand.
Despite their festive look, the party buses are also equipped with top-of-the-line security measures and designed to be as sturdy as possible. It goes without saying that they're also well-maintained at all times and thoroughly tested at a regular basis.
Arrive in style with our first-rate party bus rentals in Phoenix, AZ
Whether you're attending a wedding out of town or you're going to one of the many phenomenal nightclubs in Central City, Phoenix, renting a party bus for the occasion is a fantastic way to spice things up.
Just make sure you rent from the best. AZ Limo is a premier limo and party bus rental company in Phoenix. Our impeccable track record, huge number of returning customers, and top-notch drivers and vehicles are just some of our many advantages.
Contact us today, or rent a party bus using our hassle-free online booking system.