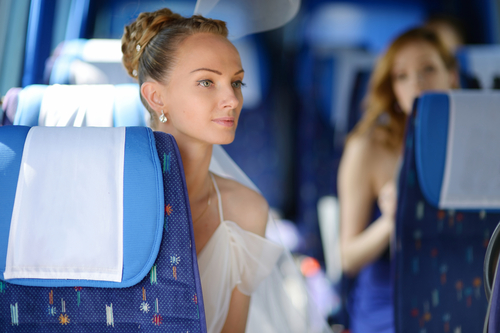 Party buses in Phoenix are vehicles that have been customized to serve as mobile nightclubs. This means that they aim to offer the full deal: music, light shows, dancing, snacks, and of course, booze. After all, it wouldn't be very much like a nightclub if you couldn't drink in a party bus!
In this article, we'll tell you about some of the great things you can do on your party bus, and answer popular questions such as whether smoking is allowed and if you're allowed to bring food on your party bus.
Keep reading to learn more.
What should you bring along for an unforgettable party bus rental?
Quality party bus rental companies will generally outfit their vehicles with everything their passengers need to have a great time. No reputable party bus service will ever send you a vehicle that doesn't have a bar that's fully equipped with alcoholic drinks and snacks.
That being said, there are things you may want to consider bringing along, especially if you're taking a longer trip on-board the bus and are worried that you or one of your party-goers may become sick or hungry.
These things include:
Extra food

Water bottles

Dry snacks in case someone gets an upset stomach

CDs or flash drives full of your favorite music

DVDs, CDs, or USB drives filled with videos you may want to watch during the ride
Are you allowed to drink on a party bus?
Alcohol consumption laws in Arizona prohibit any person younger than 21 years of age, and, therefore, not legally considered an adult, from consuming alcoholic beverages. People who are 21 years old or older are allowed to drink onboard a party bus same as if they were in a nightclub.
In some cases, minors may be allowed in a party bus if there's an older adult present who can prevent them from drinking alcohol, or if the party bus' destination is someplace where minors are otherwise allowed to enter.
Needless to say, the party bus chauffeur is absolutely not allowed to consume alcohol while on duty. After all, there's nothing more important than the safety of party bus passengers and their secure arrival at their destination.
Can you smoke on party bus?
Whether cigarettes and other tobacco-using products, such as shishas and cigars, are allowed in a party bus depends on the policy of the rental service. Because of this, there's no universal answer to this question. It's best to contact the rental company and ask.
As for cannabis, the answer is: definitely not. Arizona's strict marijuana laws allow marijuana possession only to individuals who have been prescribed medicinal marijuana by their physicians. Anyone else who's caught using or carrying weed will likely face felony charges.
It goes without saying that no trusted party bus rental service would ever allow its passengers to consume illegal substances onboard their vehicles. Any company that offers such discretion is highly suspect and should be avoided.
Where can you rent the finest party buses in Phoenix?
Are you planning an unforgettable bachelor or bachelorette party? Maybe you're going to a distant festival or nightclub? Or perhaps your big wedding day is coming and you want to ensure you and your beloved arrive at the party in style?
If so, AZLIMO.COM party buses are exactly the transportation you need. Located a short distance from the Coronado High School, we are a first-rate party bus and limo rental service in Phoenix. Our vehicles are operated by superbly trained and highly experienced chauffeurs who will ensure that you arrive safely at your destination.
Use our online booking system to quickly book your party bus today, or reach out to us if you'd like to know more about our service. We can't wait to hear from you!