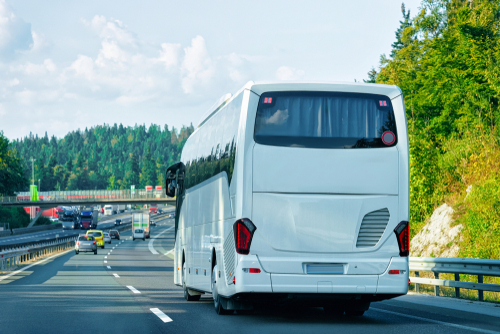 If you're planning an event for your company and you need to organize transportation for everyone, you should consider booking a reliable corporate bus charter in Phoenix, AZ. Of course, you'll need to find a reputable company and learn how to negotiate a charter bus rental.
It's also important that you find out a few details about bus rentals before you make a reservation. Finding out how many people can a charter bus accommodate and whether tipping a bus driver is expected can help you organize your trip better. Of course, for some other even, renting a party bus might be a great idea, so you should also find out party bus pricing rates.
Are charter buses safe?
One of the most important factors to consider when choosing a certain bus company is your safety. After all, you'll be traveling long distance in their buses, so you need to know that they can guarantee that you'll be traveling in a safe environment. Here are a few suggestions that can help you determine the reliability of a company in Phoenix:  
Highly trained and licensed drivers: A trusted bus charter rental company will hire only the best and most experienced chauffeurs who have undergone extensive training and know different routes to your destination.

First-rate vehicles: You should travel in a safe, regularly serviced charter bus that has no risk of breaking down during your trip. You can always ask a chosen company in what condition their charter buses are.

Transparent pricing: The last thing you need is for a company you booked with to surprise you with last-minute fees and hidden expenses. You have the right to know how much the total cost of your rental bus is and ask for a quote.

Advanced technology: If a charter bus company stays up to date with innovative technological solutions, it means that they are dedicated to improving their business and providing their clients with the best possible experience.
If there is any additional information you want to ask them, you can always browse the Arizona Department of Transportation for resources.
How much does it cost to rent a bus and driver?
Pricing is another factor to keep in mind when deciding on a charter bus company. You need to carefully compare your options and see which one fits into your budget. Once again, make sure to consider the following suggestions:
Ask for several quotes. Instead of just accepting the first deal you come across, you should ask for several price estimates and then compare them to see what's the best offer you can find.

Look for competitive rates. The leading companies in the area will gladly share their rates with you. Try to find a business that features a competitive flat-rate pricing model that brings the greatest value for money.

Beware of low prices. Don't just go with the cheapest option you can find. There's probably a reason why they offer such low prices. Sometimes it's better to pay a bit more so that you can rest easy knowing that you're safe.
Where can I rent a charter bus in Phoenix?
Whether you want to take your family and relatives to Camelback Mountain or you're traveling with your colleagues to a corporate event, hiring the best corporate bus charter service in Phoenix, AZ will make your trip more enjoyable and luxurious. Of course, there's only one possible option when you're considering this – AZLIMO.COM.
We will gladly help you organize your transportation, bringing exceptional customer experience. Don't worry about the safety or pricing because we're the leading company in the area for a reason. Our drivers have exceptional records and experience, so there's no doubt that they're second to none. Book with us and see for yourself!