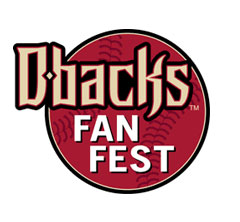 If you can't wait until Spring Training 2013 begins in late February, get your baseball fix when Cactus League team, the Arizona Diamondbacks, hosts their annual SUBWAY D-backs FanFest.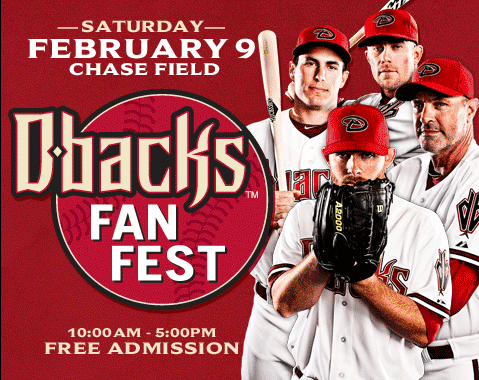 The Arizona Diamondbacks, affectionately known as the D-backs, will hold their 9th annual SUBWAY D-backs FanFest on Saturday, February 9, 2013 in Phoenix's famed Chase Field.
The free event will give fans the chance to rub elbows with current players, coaches, and alumni in autograph and photo sessions on the field. The long list of those scheduled to appear includes:
Heath Bell
Willie Bloomquist
Trevor Cahill
Tyler Skaggs
Patrick Corbin
Will Nieves
Wade Miley
J.J. Putz
Coaches Don Baylor, Charles Nagy, Steve Sax, Glenn Sherlock
And many more
Those who want an autograph from their favorite player or coach will have to make sure to grab up one of the limited number of $5 autograph vouchers. 100% of the proceeds will go to the Arizona Diamondbacks Foundation. Click here for more information on the schedule for autograph sessions and how you can get your hands on vouchers.
The D-backs definitely know how to spoil their fans: For the 8th annual FanFest, SUBWAY awarded the first 3,000 fans to a free SUBWAY cash card loaded with amounts ranging from $1 to $100. Not too shabby, right?
Attendees can expect the same generosity this year.
Beyond the autograph session, fans will also be given the opportunity to tour the Arizona Diamondbacks home clubhouse, browse the selection at the Arizona Diamondbacks Foundation Yard Sale, have some family-friendly fun at the Family Fun Zone, and much more.
Another D-backs FanFest guarantee is large crowds. A record-breaking 25,000 Arizona Diamondbacks fans attended this year's FanFest, more than doubling last year's turnout. If this trend continues, D-backs FanFest 2013 will be the biggest FanFest ever and parking will probably be an even bigger pain.
Let AZ LIMO make facing these huge crowds a little less stressful. With a selection of Sedans that can seat up to 4 passengers, limos that can seat up to 20, and mini coaches that can seat up to 25, AZ LIMO can accommodate a family of any size. Enjoy our services for D-backs FanFest and get in and out as quickly and as painlessly as you'd like.
Be sure to visit dbacks.com  or call (602) 462-FEST (3378) for up-to-date info on D-backs FanFest 2013, and contact AZ LIMO to ensure your day is devoid of any parking or traffic hassle.
Image via twitter.com/dbacks, twitter-header.com