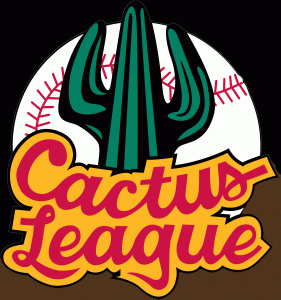 Cactus League Spring Training 2013 kicks off on Friday, February 22 with exhibition games by the Cincinnati Reds, the San Diego Padres, and the Kansas City Royals.
But before you dive into the chaos of Spring Training, consider taking up the Cactus League on its very cordial invitation to the 2013 Cactus League Lunch on Tuesday, February 19.
The event, hosted at the Surprise Recreation Campus, will begin at 11:30am and boasts a program that features 1999 Hall of Famer George Brett and former MLB pitcher Greg "Mad Dog" Maddux as guest speakers.
The event flyer on the official Cactus League Spring Training website lists the following prices for tables of 8:
Presenting Sponsor: $3,000
Gold Sponsor: $2,000
Silver Sponsor: $1,500
Corporate Friend: $500
Associate Cactus League Member: $300
Individual Tickets: $40
If you'd like to attend this year's Cactus League Lunch, you must make reservations on or before February 12. To purchase tickets or a table call 623.222.2239 or email tara.combs@surpriseaz.gov.
And you'll need one more thing: AZ LIMO.
Everyone loves attending Cactus League Spring Training events, but who likes hunting for a parking space? Allow AZ LIMO to guide you to and from any and all events for Cactus League Spring Training 2013. Just kick back and relax in the vehicle of your choice, and we'll get you there.