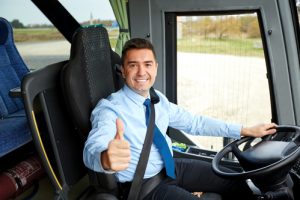 AZ Limo Company is a versatile one. The fleet ranges from simple sedans (with or without a chauffeur) to a massive charter bus. If you're wondering 'Well, who on Earth would rent a charter bus in Phoenix?' here are the most common occasions these lumbering monsters are great for.
First of all, to be on the same page, a charter bus (or a coach) is the biggest commercially available road vehicle available in the USA. It usually has 55 passenger seats. Forget the memories of uncomfortable, cramped, stuffy and noisy nightmares on wheels, though. The new generations of charter buses are well equipped with various amenities formerly available only on smaller-scale vehicles. Some of those are the now ubiquitous air-conditioning, LCD screens able to play DVDs, tinted windows for privacy, as well as Wi-Fi access. Furthermore, these large vehicles offer what no other transport options can- sufficient luggage storage. In fact, the whole lower deck of the bus is dedicated to this task alone. So, with that in mind, who would need a whole charter bus to rent?
Sports teams
Sports teams, whether baseball, basketball or football, tend to consist of a lot of people. You've got the players themselves, the coaches and the supporting crew of medics, water carriers and others. That can tally up to a lot of people. In order to get from one town to the next, you'd need a lot of cars. And that's all not accounting for all the equipment necessary (think of the football player's uniform). Now, I am sure that NFL or NBA teams are wealthy enough to have their own transport all across the USA, but what about college teams, or the little leagues? This is one of those situations where a charter bus is ideal for the job.
Major weddings outside town
Some people go to great lengths to make their wedding as memorable as possible. Sometimes literally to great lengths, as their ideal place might not be in their own place of residence (or possibly somewhere far from any town or city). Inviting people to some remote area and not offering to give them a ride there may be construed as rude (or at least inconsiderate). With larger groups, the ideal solution is to rent a charter bus. Not only do people not need to struggle to find the place, thy can also be more relaxed, as they do not need to drive home.
Corporate retreat
Depending on the size of the company, a charter bus might be ideal for a team building retreat. The team building can be initiated while on the bus, by assigning seats and other team building exercises. Similarly to the wedding scenario from above, people might be more relaxed without the need to drive out themselves. And if the boss is on the bus as well, it adds to the feeling of togetherness and relative equality.
Following your sports team
Every major city in the USA has a sports team they are proud of. New York has the Giants and the Knicks, Dallas has the Cowboys, and Phoenix has the Suns. While many of us enjoy casually catching a game, or reverently following each match, there are those who are so dedicated to their sports team that they would follow them all across the country. And when there are enough of them, the charter bus seems like the only option. Well, at least we all know what the main topic on those road trips is.
Whatever your reason to rent a charter bus in Phoenix is, look no further than AZ Limo. And even if the bus is too big for your needs, AZ Limo has you covered with a variety of vehicles. Contact us now to get a quote or rent a charter bus.