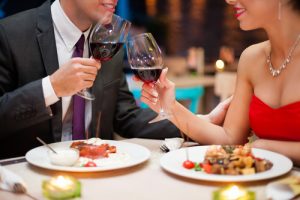 There are some things that just go together. Like peanut butter and jelly. Like milk and cookies. Like romantic restaurants and limos. If you are preparing a special occasion for your significant other, careful planning is vital. Don't leave anything to chance and give your loved one the best of yourself. When it comes to romance, there are some classics which should never be changed. Champagne, roses, a limo and a good restaurant are staples of an ideal date. If you need help picking out the best version of this ideal date, here is a list of romantic restaurants in Phoenix.
Italian restaurants
The true and tried formula of Italian cuisine and wine can't fail in dazzling your senses and putting you in the best of moods on that special day. Italian cuisine's strong points are the very best pastas, as well as some of the world's most praised cheeses. Phoenix are does not lack for Italian restaurants, so you should have no trouble finding the ideal one for yourself. Most common recommendations include Tomaso's and Crudo.
French restaurants
Much like the Italian ones, French restaurants are known to be the classic choice for fine dining all over the world. It is also true in Phoenix. French cuisine is known for the masterful use of aromatic herbs and the best ingredients. French wines (champagne being the most famous) and cheeses are the gourmet staple. Phoenix's finest French cuisine is said to be in Vincent's or in Coup de Tartes.
Chinese restaurants
Less than common choice for romantic dates, Chinese restaurants carry with them some of the oriental mystery and magic. The exotic spices and peculiar combinations of tastes are sure to entice you all throughout your date. Szechwan Palace and Nee House are praised for their authentic setting and food.
Japanese restaurants
Japanese cuisine is largely unknown to the Americans, save for the famous sushi. That is why going to a proper Japanese restaurant may be seen as an adventurous kind of date. If the excitement of something new and unfamiliar is a driving force for you, Japanese cuisine is the perfect date idea. However, make sure you find an authentic traditional restaurant. Phoenix boasts such institutions as Nobuo and Moto.
Fusion restaurants
National cuisines are all very distinctive and all deserve some credit. Still, if your sensibilities are more contemporary, perhaps your tastes for food are as well. That's where fusion or contemporary cuisine comes to play. Taking ideas from every corner of the Earths, there is no single fusion style, but rather a conflation of ingredients, spices and cooking methods to create modern culinary magic. Places such as True Food Kitchen and Urban Vine are prime candidates for this kind of romantic restaurants in Phoenix.
Other options
If none of these national cuisines sparked your curiosity, or you just feel that there is a better option somewhere in there for you, remember that there is a bustling multicultural community in Phoenix. Thanks to the globalization process, we are able to enjoy lots and lots of different cuisines previously unknown to us. African cuisine of Ethiopia, spicy flavors of the Caribbean and many more wait for those adventurous enough to explore them.
Any of these makes an ideal setting for a romantic night on the town. It is up to you to capitalize on their potential to dazzle. And to get you there and back without breaking the spell of romance, hire a limo, as a classy reminder of how special they are to you. Contact AZ Limos to arrange your ride for the night.