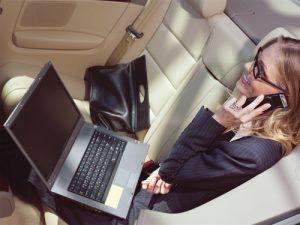 If you are in a service industry, you know full well that leaving a good first impression on your client is going to give you an amazing head start. Some studies claim that it is far easier to ruin a good first impression than it is to fix a bad one.
So, what do you do about it?
One of the things you may consider is hiring a limo to take your client (or you, or both) to a meeting or a business trip. Phoenix limo rates are affordable and no longer considered a luxury by many business owners.
There are numerous ways you can get from one place to another, sure. But with a limo, you can do it in style and with confidence that no other mode of transportation can provide. Consider the following perks of limos.
The wow factor
In business as in life, a lot depends on that initial impression. Giving your client a sense of luxury and comfort they may not be used to can sway them towards a positive image of you and your company. What it tells your client is that you care about those you do business with. This gesture gives them a sense of confidence that you are serious about your business.
When a client sees a limo waiting outside, they see a business partner willing to go the extra mile. Be the one who stands out from the throng of similar businesses with extraordinary gestures.
The comfort
Imagine just having gotten off the plane. Planes are never comfortable, no matter where you sit, or how long your flight was. Then imagine that you have an important business meeting some 20 miles away. What now awaits you is a long cab ride, which is, again, not the most comfortable travel option. Your mood coming into the meeting isn't going to be rosy. Now imagine that's your client. If you can offer them some comfort, wouldn't you?
Let's rewind to the landing. Your client has spent some time on a plane, and is only half-way done with his trip. And then, at the airport, there's a limo driver with his name on the plaque. If that doesn't put them in a good mood, the perks inside the limo are sure to.
The air-conditioning and the sufficient leg room are a good start, but if you choose so, you can have a whole slew of amenities, such as drinks, music and video players, newspaper of any kind, etc. You just know they will be in a much better mood coming in.
Working on the go
If you are the type of person who doesn't waste a second, you may choose to come along for the ride. The limo is ideal for the businessman whose time is precious, as you can discuss the broad strokes of the business while on your way to the meeting, or hammer out the finer details on your way to the celebratory dinner. Limos come standard with the compartment, so your privacy from the driver is not in question. Furthermore, modern limos come standard with Wi-Fi, so you can stay connected- an amenity which is so ubiquitous today, it is no longer considered a perk, but a necessity.
If you are interested in the best limo rates in Phoenix AZ, look no further than AZ Limo. We will get you there, and in style.