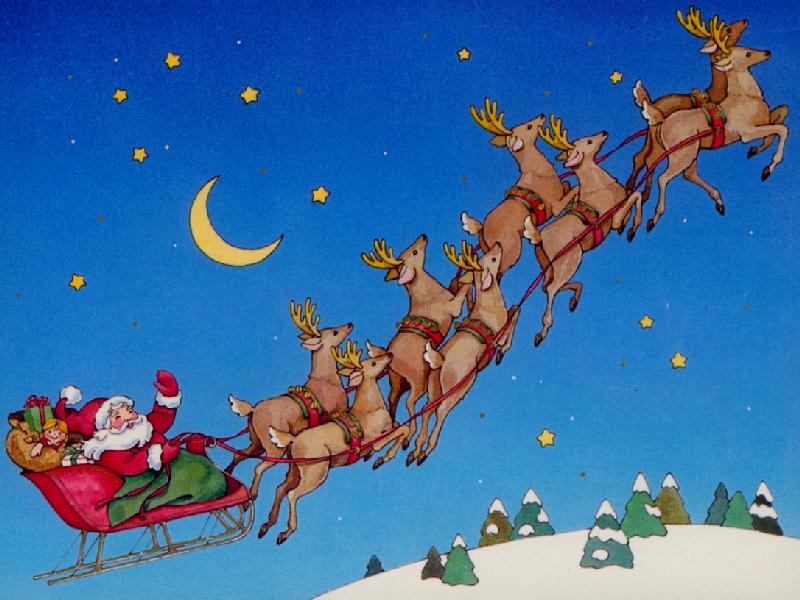 In 1955, a Colorado Springs business advertisement misprinted the telephone number for children to call Santa Claus. The number instead put children in contact with CONAD, the Continental Air Defense Command. Instead of turning the misled children away, the Director of Operations at the time turned his staff into Santa trackers, asking them to check the radar for indications of Santa making his way from the North Pole and update inquiring children on Santa's location. For two years CONAD continued to act as a Santa tracker until 1958, when the governments of Canada and the United States created NORAD, North American Aerospace Defense Command.
Since then, volunteers for the NORAD Santa Tracker have responded to phone calls and emails from children around the world. For those who prefer a more modern approach, the NORAD Santa Tracker now tracks Santa on the interwebs. Noradsanta.org, available in eight languages, provides up-to-the-minute updates on how many gifts Santa has delivered, the cities and countries he's delivered to, and even gives kids info on where Santa and his reindeers will be going next and how long it'll take him to get there. So far, we've spotted Santa in Hat Yai, Thailand, Alice Springs, Australia, and Magadan, Russia, among hundreds of other cities in the Eastern Hemisphere.
For the child who might get a bit bored of the NORAD Santa Tracker, the site also offers a Santa Cam that captures images and video of Santa Claus as he journeys around the world and interactive holiday games.
Google, who formerly collaborated with NORAD on the Santa Tracker, is now engaging in its own Santa tracking fun. The Google Santa Tracker provides pretty much the same info as the NORAD Santa Tracker, but Google's Santa seems a bit slower than NORAD's: as of this morning, Google's Santa has delivered a mere 594 million gifts while NORAD's Santa has delivered well over 1 billion. Google's Santa also seems quite social: about twice every minute, he updates his status, saying things like, "Mmm those cookies were delicious" and "Jingling all the way!"
Try one or both of these Santa tracker sites to add a bit of location-based fun to your holiday season!
Image via scienceblogs.com