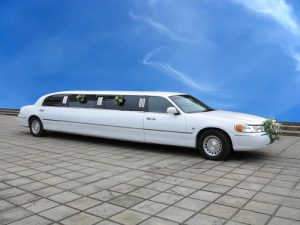 We have all seen those elegant stretch limos around the town. Have you ever wondered who came up with the idea to lengthen a car and when? This text will give you a brief history of a stretch limo. Once they had been reserved solely for the rich and famous. However, Phoenix limo rates have been going down for years, and now this piece of luxury is available to the wide public, for rent for parties, birthdays, weddings or any other use you may find for them. AZ Limo Rental Company boasts an impressive fleet of stretch limousines and SUVs, as well as other vehicles.
Limousine
The term limousine actually doesn't mean a stretch limo. It originally meant any luxury car with a chauffeur and with a compartment for the passengers physically separated from the driver. In Europe, the term limousine simply means a sedan. In modern interpretation a limousine is usually a luxury sedan which offers various amenities normally not found in regular cars. There are several types of limousines. Apart from the generally accepted design, there is a limousine-landaulet. This design includes a removable or folding roof over the passengers' section. Another common design is the limousine de-ville. This design includes a solid roof over the passengers' section, but the driver's section has a removable or foldable roof.
Stretch limo
Stretch limos are luxury vehicles with the wheelbase which is longer than that of a typical sedan. The lengthening can be done by the manufacturers themselves; however, that is rare. More commonly, a specialized company, a coachbuilder, makes the alterations on the normal-size vehicle. These vehicles need to pass rigorous tests to make sure they comply to the safety regulations, so you may be sure that the stretch limo you are renting is safe.
History
The first stretch limo was manufactured in Fort Smith in Arkansas, as far back as 1928. It was not a production car, but the work of a coach building company called Armbruster. Back then, the art of coach building had been much more prevalent and this was a solid marketing move for the company. The first users of these stretch limos were musicians. Not much has changed since, it would appear. However, the stretch limo was used more practically in those days. It was used to transport large bands and their equipment. This led to them being called 'big band buses'.
SUV limos
Since those early days, limos have evolved. Specialized coach builders have made stretch versions of many different cars. In the recent years, SUV stretch limos have become all the rage. If you have seen one, you know why. The raw power of the SUV combined with the elegance and the amenities available in a stretched out car. Their popularity is not dwindling, so various popular SUVs have had their stretched out iteration. Vehicles such as Yukon Denalis, Hummers, and Escalades are just come of them,
Amusing limos
Since the advent of the stretch limos in popular culture, many people have attempted to create stretched out versions of vehicles you would not normally expect. Some of these include Ferrari limos which can hold up to 10 people. Other such examples include a Volkswagen Beetle or a Mini Morris, normally very small cars, or Lada and Trabant, cheap Eastern European cars.
If you wish to rent a stretch limo in Phoenix, remember that limo rates are fairly affordable at AZ Limo. The AZ Limo rental company has a modern fleet which offers stretch limos, both sedan and SUV versions, as well as a variety of other vehicles for all your transport needs. Contact today for further information.