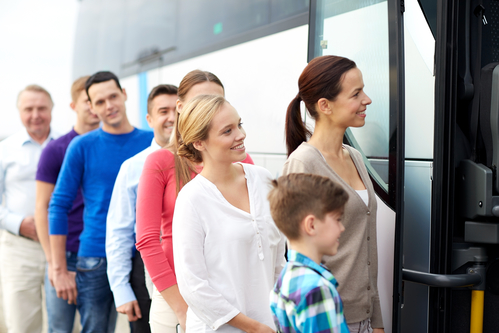 Are you getting ready for your first group trip? Just like with any other travel, first you make a travel checklist. You book your accommodation, create your travel itinerary, and think about the best transportation for your group. This is where charter buses Phoenix Arizona come in! Charter bus companies will see to it that you travel in comfort and luxury. But this is only half the battle.
Unlike traveling alone or with a single companion, traveling with a group has its own inner working. It's as they say, "the more the merrier", but touring with several people means you'll have to work with different personalities, hear a lot of opinions and try to accommodate different priorities.
Here are a few important tips to make sure your group trip is memorable and fun for everybody!
Inquire about charter bus companies
As a group will need a substantial vehicle to travel comfortably, opt for charter bus companies. Choose AZLIMO.COM charter bus which suits your travel party needs, relax, and enjoy a safe and cozy ride to your destination. Charter bus companies are a great choice for transporting groups. They help you avoid renting several cars and having trouble parking, looking for local buses or hitchhiking, which is difficult to organize when you travel in a group.
Prepare everything you can before your adventure begins
After choosing the best ride among available charter bus companies, take care of all things you can do before boarding. Find and book accommodation(s), make a list of places and sights you'd like to visit, check if any group discounts are available, make a rough tour schedule, prepare a basic "health kit" (pain medications, sunburn remedies, nausea pills, etc.).
Determine road trip roles and assignments
The best way to keep a trip organized and fun for everyone is to have each person responsible for a task, rather than having a one-person-does-it-all approach. One person can keep the passports and other documents, other can schedule check-ins and visitations, another one can make plans for nights out, etc. Experienced drivers working for charter bus companies can also be your guides, or you can choose a person from the group to follow the maps and be the tour guide.
Separate yourself from the group
No matter how close the members of a group are, everyone has their own wishes and interests. Everybody can use some time for individual strolls and explorations, so it is perfectly natural to break up the group sometimes. Agree on how long you are going to be separated, choose the common meeting spot, and feel free to investigate the destination at your own pace.
Stay patient and flexible
Group trips can (and should) be lots of fun and laughs, but in certain moments, sparks can fly. Remember to stay patient and flexible, and your fellow travelers will surely appreciate that. An additional tip you will definitely find useful: Never make decisions or get into arguments when you are hungry or tired. Always keep some snacks and a bottle of water near you.
Time to bring you home safely!
If you follow these guidelines, your group travel will surely be a success! When the adventure is over, pack up your passports and your luggage, and let charter bus companies be there to bring you home safely. Contact AZLIMO.COM today and we will take care of your ride – all you have to worry about is coming home rested, "recharged" and richer with some new, wonderful memories.