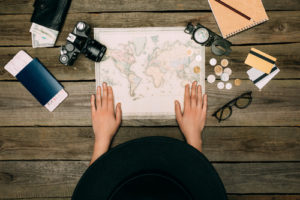 Although traveling is such an enriching experience, it can quickly become stressful if you realize that you forgot some of your basic essentials. On the other hand, after booking a premier bus charter Phoenix service, you can get carried away and pack your entire closet. However, whether you want to keep your energy for your business trip and avoid carrying too much luggage or have your peace of mind knowing that you brought everything you need, some essentials are simply a must! Even if you and your crew want to rent a charter bus or an affordable party bus for your group transportation in Phoenix, you still need to pack for your trip mindfully.
Travel and personal documents
You'd be surprised how often people forget their travel and personal documents. This is the most important item on the list because you can't really go anywhere without them. However, if you're not traveling abroad, you won't have to worry about your passport. Of course, you still need to bring your ID, credit cards, medical insurance, etc. Check whether you packed everything, and do it several times, just in case!
A copy of your group transportation in Phoenix contract
If you and your friends or colleagues decide to go with a stress- and trouble-free group transportation service, you need to make the arrangements in advance. Getting everything in order before your trip will enable you to relax to the max. However, just to be safe, don't forget to bring the copy of your contract or some other formal document that you've signed upon renting a bus or some other vehicle.
Money
It may sound funny to even list money on a traveling essential list since you can't really do anything without it. However, you might decide to only bring your credit cards, which isn't such a great idea. You should always have at least some money on you for emergency situations and other unpredictable events.
Comfy group transportation in Phoenix 101: neck pillows!
The cozy ride on a comfy bus will lull you to sleep in no time! However, you won't be able to nap if your head keeps falling. Luckily, there's a simple, soft solution – a neck pillow! This will help you sleep like a baby while on the road. You'll wake up energized and ready for your upcoming adventure!
Toiletries and other personal hygiene items
After packing your documents, money and a comfy neck pillow, you can move on to toiletries and other personal hygiene products. If you rent a bus, you won't have to worry about carrying your luggage around, but you still need to stay efficient when packing. Choose those tiny packages that won't take up too much space. Make sure that they're packed in a leak-proof bag and safely tucked in. Wet wipes and hand sanitizers should be within your reach, so put them in your carry-on bag.
You're in need of group transportation in Phoenix? AZ Limo's got you covered!
AZLIMO.COM is here to make your next group trip unforgettable! Not only will we provide you with an excellent customer experience and a reliable service, but we'll also ensure that you travel safely and comfortably. You and your fellow travelers will finally be able to truly enjoy your trip and not just the destination! With our ultimate transportation service, you can turn your travel experience into a true adventure! Wait no more and contact us today!