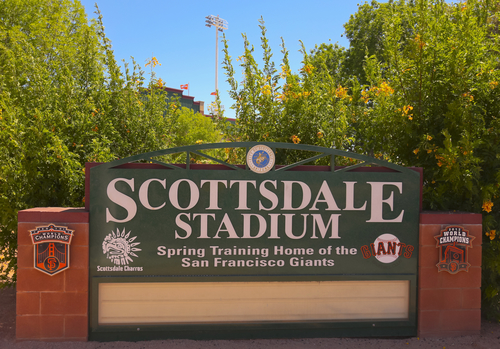 Every year, spring training attracts thousands of baseball fans eager to watch their favorite teams play. For the better part of February and the entire March, the Valley of the Sun becomes the spring training home of 15 Major League Baseball teams. Where is spring training in Arizona? The Cactus League hosts the teams in 9 cities and 10 stadiums throughout the Valley. If you want to see some new players and your favorite pitchers and catchers without worrying about transportation, seek a reliable spring training limo service in Arizona!
Best ballparks
Founded in 1947 with only two teams, the Cactus League has expanded to 15 teams playing in 10 ballparks. Where is spring training in Arizona? Most fans are eager to attend Cactus League ballgames in Mesa, Scottsdale, Glendale, Tempe, Phoenix, Goodyear, Peoria, and Surprise. If you want to experience great spring training baseball in Arizona, be sure to visit these ballparks:
Sloan Park, Mesa: With seven practice fields and 15,000 seats, Sloan Park is the biggest training stadium by capacity in MLB. This 140-acre complex was opened in 2014. What was once a golf course became the new home of the Chicago Cubs and the best place in AZ to enjoy a ballgame! It will take your Cactus League experience to a whole new level.
Most seats are shaded and the food selection is great. Visitors also have a chance to see features that pay homage to iconic Wrigley Field, such as his faithful smaller replica and a brick wall behind home plate similar to the one in Chicago. Also, Sloan Park is just minutes away from attractions in Mesa that you'd want to see!
Salt River Fields at Talking Stick, Scottsdale: The newest and most versatile stadium complex in the Valley. It is also the first spring training complex built on Indian land. Both the Rookies and Diamondbacks are their tenants.
Its 150 acres with state-of-the-art facilities, fields and the centralized stadium are impressive and guarantee an intensive baseball experience. The architecture, landscaping, arrangement and the overall aesthetics will have you immersed in the great game of baseball straight away.
Scottsdale Stadium: This baseball field is the former spring training home of the Phoenix Firebirds and the current home of the San Francisco Giants. It was built in 1992 on the site of the old Scottsdale Stadium – in less than a year, to avoid moving the Giants to another location.
The stadium is located in the heart of Old Town Scottsdale, which makes this Cactus League venue unique, and it holds 12,000 visitors. Making the most out of its spectacular location, this year's proposed renovations will enhance the spectator experience and boost the stadium's position as a premier ballpark.
Best postgame options
There's plenty to do in Arizona during spring break besides enjoying preseason baseball! Explore the amazing scenery, a number of exciting activities and fabulous getaway spots. Here are a few!
Old Town Scottsdale: The two-mile radius of trendy restaurants, art galleries, high-end boutiques, and more, leaves you with tons of possibilities. Regardless of whether you are visiting Scottsdale Stadium or coming from another ballpark, take a walking detour to downtown Scottsdale and experience one of the most charming and vibrant downtown centers in the Southwest.
Grand Canyon: We know that you're in town for spring training, but don't miss your chance to visit the South Rim of the Grand Canyon. This most visited attraction in Arizona is approximately 230 miles north of Phoenix. You can hire a limo service to take you to the most scenic points and awe-inspiring sights in the West.
Heard Museum Guild Indian Fair & Market: Every year, held on the first weekend of March, this Arizona's biggest and finest American Indian market for artists attracts more than 10,000 visitors. With 60 years of tradition and broad cultural and artistic themes, Indian Fair & Market has become a gathering place for both artists and art lovers. See for yourself why!
Where is spring training in Arizona? AZLIMO.COM will take you there!
Heading to Arizona to watch your favorite baseball team play this spring? Instead of typing the question "Where is spring training in Arizona?" in the search bar, reach out to AZLIMO.COM, the best limo service in Arizona!
Cactus League ballparks, Arizona's attractions and spectacular scenery… whatever you wish to see, we can take you there! Sit back, relax and let us worry about driving! Check out our first-class fleet, book our services and get unparalleled travel experience!