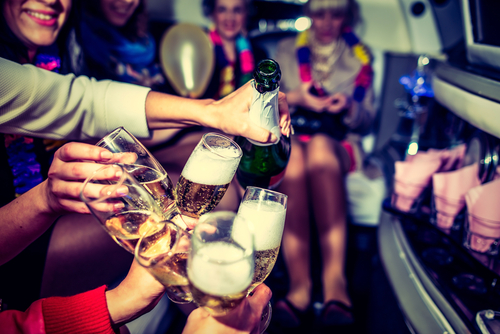 So, you've heard there are party bus rentals in Phoenix, AZ, but you have no idea what a party bus actually is. No worries, we're here to help! A party bus is a transportation vehicle that has been extensively modified to serve as a moving night club.
You read that right! Party buses make for unforgettable parties not only because they enable you to arrive wherever you're going in style, but also because they're designed to help you have a great time on the way to your destination.
In this article, we'll tell you about some of the many thrilling things you can do on a party bus, and give you a few vital party bus facts that will help you get the most out of your rental experience. Keep reading to learn more.
How many people fit in a party bus?
There are no transportation safety laws that govern how many people can get inside a party bus. Of course, reputable party bus rental companies are very conscious of passenger comfort and safety, and will have strict limits on how many passengers can ride onboard a specific vehicle.
These limits will typically depend on the size and model of the party bus in question. The easiest way to find out how many friends you can bring along on your party bus ride is to give your rental company a call and get the answer first-hand.
Do you need to bring anything on a party bus?
First-rate party bus rental companies equip their vehicles with beverages and snacks, so all you really need to bring is a big smile and plenty of good vibes. That being said, it never hurts to bring along a few things, especially if it's going to be a long ride.
Things you may want to consider bringing include:
Special foods that you and your friends enjoy.

Extra water bottles.

Some dry snacks can help out if someone gets an upset stomach.

Flash drives or CDs loaded with your favorite music.

USB drives, DVDs, or CDs full of videos you may want to watch during the ride.
Where to go on a party bus?
Because drinking legally onboard a party bus is fully permitted as long as you're 21 years old or older, party buses are a great option for any type of celebration that includes alcohol. They remove the need to pay for expensive cabs and allow everyone to unwind and have fun without having to worry about how they'll get home at the end of the night.
These are all great occasions to rent a party bus for:
Bachelor parties

Bachelorette parties

Birthdays

Weddings

Festivals

Concerts

Prom nights

Regular nights out
In fact, you don't even have to go to any specific destination. You can just have your party bus drive around town while you and your friends are having a blast inside. Just remember to also bring your favorite snacks on a party bus for those extra long rides.
Who provides the most amazing party bus rentals in Phoenix, AZ?
Whether you're attending a wedding, throwing a birthday party, or just want to have a memorable night out at one of the Northwest Phoenix bars, renting a party bus is a great way to make the occasion truly special.
As the best party bus rental company in Phoenix, AZLIMO.COM is uniquely equipped to provide you with modern party buses and top-notch chauffeurs who know the city like the back of their hand.
Contact us if you have any additional questions, or simply use our hassle-free online booking form to rent a party bus of your dreams. We look forward to serving you!