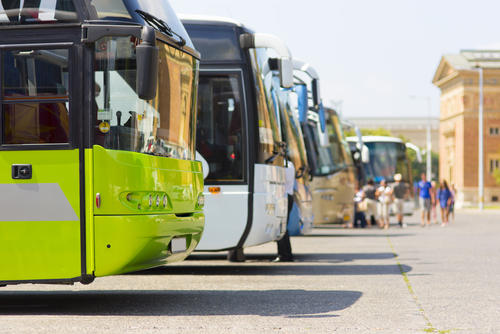 Traveling isn't only about reaching a destination, but also about enjoying the travel itself. Your next trip will be more memorable and comfortable if you rent a bus charter and leave driving to someone else. Booking a bus charter service in Phoenix is a highly convenient, safe and enjoyable way of travelling.
However, renting a bus brings numerous important considerations, from hiring a limo service for your next event to negotiating the rental. Of course, you need to find a reputable company first and then continue planning the rest of your trip.  
What type of event are you attending?
After finding a transportation company that can meet you needs, you need to pick the right vehicle for your trip. This requires you to consider your travel plans and choose a bus that will suit a particular event.
Going with a regular charter bus is an appropriate solution if you're travelling long distance. If you're going to a business conference with your colleagues, a charter bus will enable you to relax, go over certain topics or simply recharge your batteries before the corporate event.
On the other hand, you might be organizing an excursion for your guests and want to explore Phoenix's many attractions such as the Desert Botanical Garden and others. A charter bus will be the right choice for this occasion, as well, keeping your group together in a comfortable atmosphere.
You also might be planning a special event of your own and need to transport your guests to a specific location. Going with a charter bus will definitely make this task easier and hassle-free. Just make sure to check whether you need to register your event with the Arizona Department of Revenue.
Finally, a coach bus can also be a great option if you're planning a wedding, going to a concert with a group of friends or attending some other big event.
How many seats does a charter bus have?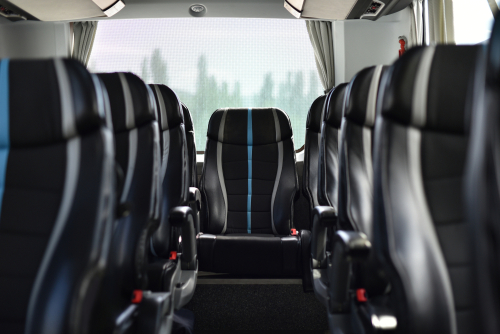 Charter buses come in different sizes, which means that they can accommodate a certain number of passengers.
A mini charter bus has around 24 seats, so it's more suitable for a smaller group of people. You can also come across some mini buses that can seat 33 individuals.
Standard charter buses can accommodate from 40 to 55 passengers. A luxurious charter bus that seats 55 individuals is suitable for a range of different events, from sports events to regional conferences.
For long distance travels, you can even find double decker buses that can seat up to 81 passengers.
How many passengers are there ?
Before booking a charter bus, you need to determine the exact number of passengers. This will affect the type of bus you can rent, so it's better to know how many people can be seated. What's more, you yourself might find it useful to know who exactly is traveling with you.
For a smaller group of people, you can go with a mini charter bus instead of a regular one. This will be more cost-effective and allow you all to travel in a cosier ambience.
In addition, if you're worried about the price, this information might be useful in this situation, too. Once you get a price estimate, you can work out how you will pay for the rental. Traveling with a group of people allows you to split the bill and share the expenses of this type of service, which will make it significantly more affordable.
What's the basic service and are there any service add-ons?
Charter buses offer numerous amenities to their passengers, elevating their travel experience. If you have any special requests, you can always discuss them with your service provider and see whether they can be included in your package.
When choosing a charter bus service, some companies give you the opportunity to choose the "pick and drop" option, which means that a driver will take you to your destination and then return to a company's premises. The other option is the "shuttle" service where a chauffeur drives you to the location and then returns you, as well.
Additional services might be included per your request – for example, you can ask a transportation company whether they can also provide food.
What does a charter bus look inside?
Charter buses feature a comfortable interior design that you and your friends will love. Comfy seats are arranged in two rows and are suitable for sleeping since they have the bed-recline mode. These buses are spacious and have plenty of legroom, so you can just sit back, relax and enjoy the ride.
Modern charter buses also have air conditioning systems, which makes traveling during summer truly pleasant. You can travel in an open, airy atmosphere with numerous luxurious amenities.
Different tech features are also included in charter bus designs, from LCD TV screens to DVD and CD players. You'll also have both overhead storage bin and extended luggage storage in the boot space, which means that you can bring all the items that you might need without worrying about where to put them.
How much do you tip a charter bus driver in San Diego?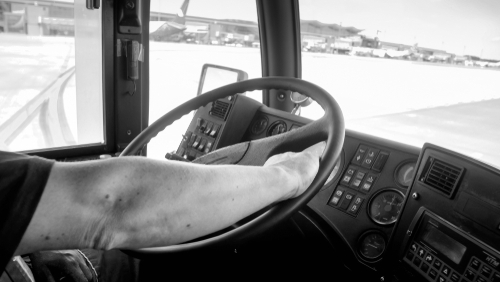 A charter bus driver is a qualified and trained professional that will provide you with an exceptional customer experience. They can accommodate your requests and bring to you a personalized experience. With them, you're completely safe since charter bus drivers typically undergo different checks and must have all the necessary licenses.
Generally, passengers tip their drivers for the provided service, which is a form of common courtesy. You can either tip your driver after they take you to your destination or see whether you can include the gratuity in the package price.
When it comes to the specific amount, it's really up to you and your fellow companions. Usually, tipping rates can range from 10 to 20 percent.
Do you need a charter bus? AZLIMO.COM has got you covered!
AZLIMO.COM is known for its exceptional charter bus rentals in Phoenix, so you should feel free to contact us if you need this and other types of vehicles. We bring to you a diverse fleet of first-class party buses, charter buses, SUVs, executive coaches, etc.
You can count on our drivers to take you to your destination safely and efficiently while you sit back and relax in a cosy, luxurious ambience. We work with the most experienced and highly trained chauffeurs because nothing is more important than your safety. Let us know what you need and we'll do everything in our power to accommodate your requests.