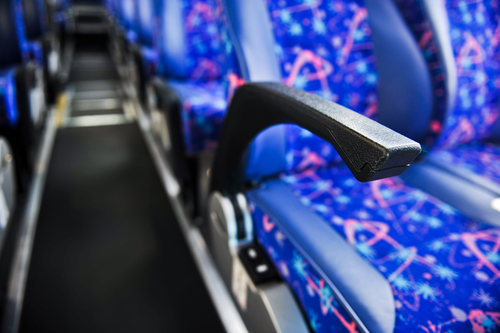 Nothing makes traveling more exciting and memorable than the people you share it with. Whether you're planning to embark on a long-distance trip with your best friends or go to a family gathering to a nearby lake, the time spent on the road will be even more authentic if you pick a charter bus in Scottsdale. What's more, if you rent both the bus and the driver, your group travel will be much easier and more enjoyable. And the only thing you need to turn your group travel into a spectacular adventure is to browse for a "mini charter bus rental near me"!
Affordability is certainly a plus!
Traveling with a group brings you a great advantage – the ability to split the bill. Renting a charter bus is one of the most cost-effective transportation options, helping you avoid unnecessary costs, such as parking fees or hidden airline charges. For a larger group and a somewhat different experience, you can even opt for a party bus near you. Even though party bus prices in Arizona might be heftier, it's still an affordable solution for individuals who want to start partying right away.
Is a mini charter bus rental near me a reliable solution?
You no longer have to worry about unnecessary delays or last-minute cancellations. You don't have to spend hours getting on and off trains and buses, or get stuck in a traffic jam just because of an inexperienced taxi driver who doesn't know how to avoid it. You and your fellow travelers can choose a mini charter bus, sit back and enjoy the most reliable ride you've ever had. Your charter bus will be prepared specifically with your group in mind and you'll get a driver who really knows how to deal with traffic challenges.
Safety is not an issue
Getting into a car or bus with someone is a major decision even if you're not aware of it. You're actually putting your life in someone's hands, so you should be completely sure that that person is experienced and licensed. "What do I get by booking a mini charter bus rental near me?" you might wonder. Actually, you're  picking one of the safest means of transportation, as your drivers will have passed a thorough assessment and comprehensive training. Also, you don't have to worry about unwanted guests because only you and your group will have access to the charter bus.
Flexibility and comfort describe your travel
From the moment you and your fellow travelers enter your charter bus to the moment you leave it, you'll be able to spend your trip the way you want to. You don't have to deal with paying road tolls or trying to figure out the shortest route to your destination. Instead, you can listen to your favorite band as you admire the passing scenery. You can catch up with a family member you haven't seen in ages. You can even sit back and have a nap, recharging your batteries before your big event.
Mini charter bus near me for a trip of a lifetime? That's got to be AZ Limo!
Where can you get a reliable service that guarantees safety? How can you start your journey the right way? Who can meet all of your transportation needs? There's one simple answer to all of these questions – AZLIMO.COM! Regardless of the type of event you're attending, AZLIMO.COM is here to ensure that you arrive at your destination. We always deliver on our promises: comfort and safety rolled into one! Call us today and let us prove it!