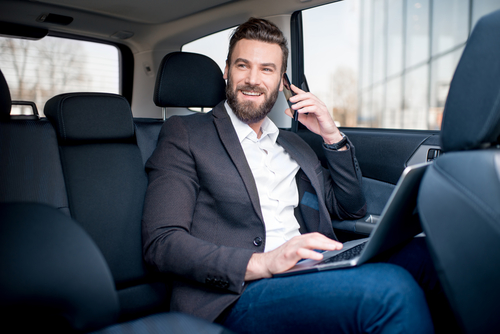 Travel is a major part of today's corporate world. Whether you're headed to a meeting in the same city or traveling to a business conference in another state, your priority is to get there in a timely manner and without unnecessary hassle.
Unfortunately, the inherent unpredictability that comes with using taxi services, public transit, ridesharing apps, and car rentals often interferes with this goal. For this reason, many companies go out of their way to employ their own in-house chauffeurs or use a professional sedan service in Scottsdale, AZ.
We previously explained what makes a great chauffeur and wrote about the advantages professional drivers can provide for their clients. Now we'll look at the 4 major benefits corporate car services can provide for your company. Read on.
Why does your business need a corporate car service?
An executive car service essentially provides your company with all the advantages of having in-house cars and drivers, but without the drawbacks of having to maintain those cars or keep those drivers on your payroll.
Here are the top 4 most important benefits of using a corporate car service:
1. Customized service
This type of car service is specifically designed to meet the needs of clients who have busy schedules and operate in a time-sensitive line of work. From planning itineraries and scheduling airport transportation, to arranging group rides, reputable transportation companies are able to provide their clients with fully customized services that they simply can't get elsewhere.
2. It's safe and reliable
You can never be sure what you'll get when you hail a cab, use rideshare, or get on a public bus or train. To make matters worse, these vehicles aren't cleaned as often despite transporting a large number of passengers on any given day. This significantly increases the risk of COVID-19.
Private transportation companies carefully vet their drivers to ensure maximum dependability and experience, and keep their vehicles in excellent condition. They also clean and disinfect their vehicles on a daily basis, and sometimes even multiple times a day.
3. It increases productivity
Studies have shown that we all have a limited amount of mental stamina on any given day. The more of this stamina you spend on tasks such as driving, looking for a taxi, or navigating through a strange city, the less you'll be able to focus on actual work-related tasks.
By hiring a highly dependable executive car service, you'll not only have your transportation needs met in the most comfortable and stylish manner possible, you'll also be able to get more work done while traveling to your destination, or just relax for a bit in the car.
4. It conveys a professional image
A corporate car service is as much a status symbol as it is a matter of convenience. Booking one shows that you take your and your company's reputation extremely seriously, and can be a great way to display respect for your partners and clients.
On the other hand, using ridesharing, taxis, or public transportation implies that you aren't able to afford an executive car service and may even be cutting corners. Whether this is true or not is irrelevant: the fact others may think so could still end up hurting your business.
Where can I schedule a first-rate sedan service in Scottsdale, AZ?
Are you in need of an executive car service for your upcoming business trip? Or perhaps you're in charge of organizing a team building trip to the OdySea Aquarium and you need a tried-and-true charter bus service?
Here at AZLIMO.COM, we can provide you with all that and more. Our highly experienced drivers, top-of-the-line vehicles, and cutting-edge booking system are just some of the reasons why we're the leading ground transportation company in Scottsdale. Reach out to us today.