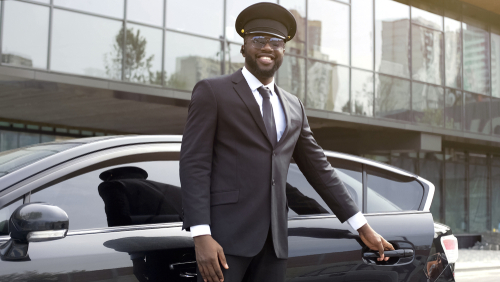 Not all car service drivers are created equal. Whether you're planning to book a ride for a business trip, or looking for someone to pick you up at the Hotel Valley Ho and take you to the airport, choosing the right chauffeur is critical in order to ensure you get a high-quality service.
But how do you make that decision? What makes one Scottsdale corporate car service driver more or less qualified? How does a great chauffeur stand out from their competition? Read on to learn about the 6 major traits your chauffeur should have.
What makes a great chauffeur?
Since the primary reason to hire a professional car service is to improve your commute, the transportation company should go out of its way to provide you with utmost professionalism throughout your ride.
Here are 6 traits a great chauffeur should have:
1. The necessary licensing and an impeccable record
Depending on the state you're in, the driver may be required to have a special license, as well as meet minimum driving experience and age requirements. Likewise, since your safety is in the hands of your chauffeur, it goes without saying that they should have a clean driving record.
2. Professional appearance
It doesn't matter if you're scheduling transportation for a critical business trip, or if you're a tourist looking for someone to drive you around Scottsdale during your stay: your driver should always look and act professional.
This typically includes wearing the classic black-and-white uniform and making sure it's perfectly clean and ironed, having excellent grooming and personal hygiene, and more.
3. Preparedness and punctuality
Not only should your chauffeur always arrive early at the pickup spot, they should also use GPS and traffic conditions to prepare 2-3 alternative routes in advance so as to make sure you get to your destination in a timely manner. An in-depth knowledge of the area is a must.
This also includes taking care of any additional precautions, such as installing child car seats or getting the vehicle ready for snow or ice, if needed.
4. Being able to handle pressure
Chauffeurs often have to deal with unexpected traffic conditions, nervous or loud clients, and other situations that can challenge an individual's ability to remain calm. For this reason, good chauffeurs must have nerves of steel and the ability to stay level-headed while on the job.
5. Pleasant character
Since chauffeurs work directly with people, they need to be able to interact with them in an amicable, approachable and polite manner. Some clients like to chat with their driver throughout their ride, so the chauffeur needs to be able to hold a conversation.
Likewise, the chauffeur should also be communication-savvy enough to recognize when a client would prefer to ride in silence, and not bother them with needless chitchat.
6. Discretion
Chauffeurs often end up hearing all kinds of confidential information or witnessing unusual moments in their clients' professional and personal lives. Needless to say, a quality driver respects the passengers' privacy and practices decorum, confidentiality, and discretion at all times.
Where can I schedule a top-quality Scottsdale corporate car service?
Are you looking to book an executive coach for your upcoming trip? Or perhaps you need a charter bus that can transport your guests to your wedding venue? Whatever your transportation needs may be, you can rest assured AZLIMO.COM is more than capable of meeting them in the most professional manner possible.
With over 15 years of industry presence and an extensive list of satisfied customers, we can proudly say we're Scottsdale's top private transportation company. Get in touch with us today.