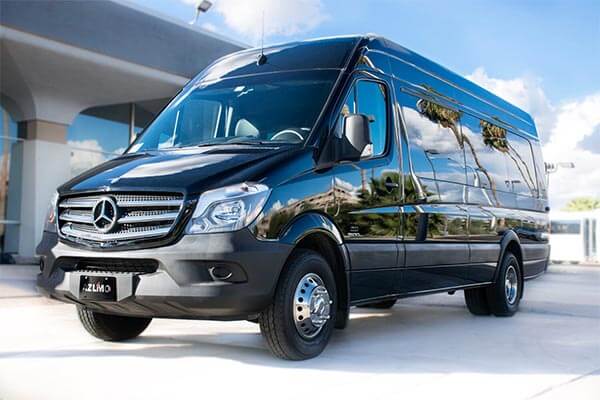 Do you need a convenient and safe means of transportation for a group of people? That is exactly what you can get by renting the most luxurious sprinter van Phoenix AZ can offer! Here are a few benefits of using a sprinter van for your next group outing!

Keep everyone together
Now you can all travel together! Sprinter vans have plenty of room, allowing you to travel as a group. In general, these vehicles accommodate 10 to 16 passengers.
You can bring anything and everyone with you on your trip. You will all arrive at your destination at the same time and have fun in the meantime. To have good times together during the travel, rent a sprinter van in Phoenix, AZ and have fun with your crew!
Travel in style
Sprinter vans are not only perfect for accommodating your traveling needs; they will give you a chance to transport your group of friends, clients or colleagues around town in luxury and comfort.
Sprinter vans usually have high back, leather seating, and some seats can also recline. Arrive in style in the most stylish sprinter van Phoenix AZ can provide!
Great features and amenities
Another benefit of these vehicles is that they can boast a ton of various amenities and features you will enjoy! Choose a limo service that takes pride in a vast selection of premier sprinter vans that would satisfy any recreational or business travel needs. You will feel like traveling in the most luxurious vehicle on the road!
Optimized for style and comfort, sprinter vans can have different amenities and features such as built in Bluetooth Navigation, Wi-Fi, DVD, television, top-of-the-line video and audio equipment, and even game consoles.
Convenience
By renting the finest sprinter van Phoenix AZ can give you, not only will you have enough room; you will also get a friendly and courteous professional chauffeur who knows their way around the city.
You will be able to sit back, relax in the comfort of the vehicle, and enjoy the ride with your group without having to worry about traffic, parking or arriving on time. Your chauffeur will take care of all that and make your journey effortless.
More than enough room and cargo space
Most sprinter vans have a high roof exceeding 6'5″. This is especially important for very tall individuals. No more bending over to get in a vehicle! You will have plenty of room inside and be able to easily get in and out of the van.
These vehicles also have a large storage space that you can use for your luggage or anything else that you want to bring along. With so much room you won't need to worry about running out of space. You will also be comfortable during the ride and be able to relax, which is especially important when traveling long hours.
#1 Sprinter Van Phoenix AZ Rental
Searching for the best limo service in Phoenix, AZ? Look no further than AZLIMO.COM. We will save you the hassle and provide you with the first-class rental services in Arizona.
AZLIMO.COM boasts a fleet of modern vehicles including Sprinter Vans, SUVs, Sedans, Stretch Limousines, Party Buses, Coaches, and Mercedes Benz S550s. Our vehicles are regularly inspected, serviced and maintained, as well as equipped with features, amenities and technology you need for comfortable, convenient and reliable transportation.
Our chauffeurs are polite and professional and can provide you with a wealth of knowledge about the area. Check out our fleet, choose the perfect vehicle for your needs, get an online quote, and book our services. Wherever you want to go, we can take you there!