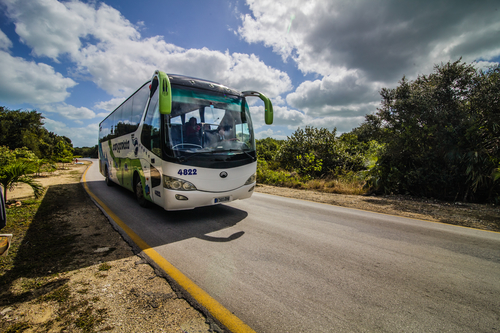 Are you scheduling a business trip or students' excursion, or simply planning a tour with your friends? Without a doubt, a Phoenix charter bus will prove to be the number one comfortable, efficient and safe choice for your group. On a charter bus, your group will enjoy all the perks of being on the road together, and ditch all the concerns about group members getting lost, not having enough sleep during the night drive because of the uncomfortable seats, or luggage being misplaced. Arizona residents, tourists and students no longer ask the question: "Where to find a charter bus near me?" – they already know.
What is a charter bus?
A charter bus is a beforehand-reserved vehicle for the private use, driven by a professional and experienced driver, who is in charge of the passengers' safety. A charter bus route is specified by the group that's making a trip. When opting for one of AZLIMO.COM vehicles, two options for your itinerary are available: Shuttle option (your group is safely transported to the desired location, and after the trip or event, driven back home) or Pick&Drop option (a package that includes your group's transportation to the desired location, after which the driver comes back to the office).
What conveniences can a charter bus offer?
Depending on a service provider, charter buses can have some very high-end amenities. Our fully air-conditioned charter buses, equipped to take in up to 55 passengers, offer a variety of add-ons like tinted windows, newspapers, overhead storage bins, bottled water and food upon request, as well as DVD/CD players and LCD TV screens.
If you travel in a smaller group, but want even more space and convenience, make sure to also check out our Executive Coach and Party Bus offers.
Sleep comfortably on a charter bus
Many people have bad experiences with overnight travels. Having your good night's sleep on mind, we made sure to equip our charter buses with special sleeper seats which allow a bed-recline mode, to ensure that you feel rested and fresh the morning after. "Should a reliable charter bus near me be ready to offer this service?" Definitely so. If you don't get enough rest, you will miss the energy you need to fully experience your travel and time with the group.
What about the storage space?
Charter buses can take up a lot of luggage, both in overhead storage bins and in luggage bays under the bus. This is especially important for the groups that take longer trips. We are particularly proud of our extended luggage storage in the 4-division boot space, ready to take in all your necessities for the road.
How much does a charter bus rental cost?
A price for a charter bus rental is formed taking in concern several parameters, like the itinerary length (mileage), the duration of the trip, whether you choose options like Shuttle or Pick&Drop, and similar. Contact your service provider to get precise information, and start planning your trip!
Where to find the best charter bus near me?
or any of you wondering "How to make sure I chose the best charter bus near me that offers all the comfort and safety my group needs?", AZLIMO.COM charter buses are the answer. Whether you are planning a relaxing group holiday or a high-profile corporate travel, we got you covered, refreshed, and ultimately satisfied. Our professional team, top-notch equipment and technology, and an impeccable safety record make us stand out among others. Call us today, and find out how enjoyable, first-class transportation feels like!